Virtual Tour of the Memorial Now Available Online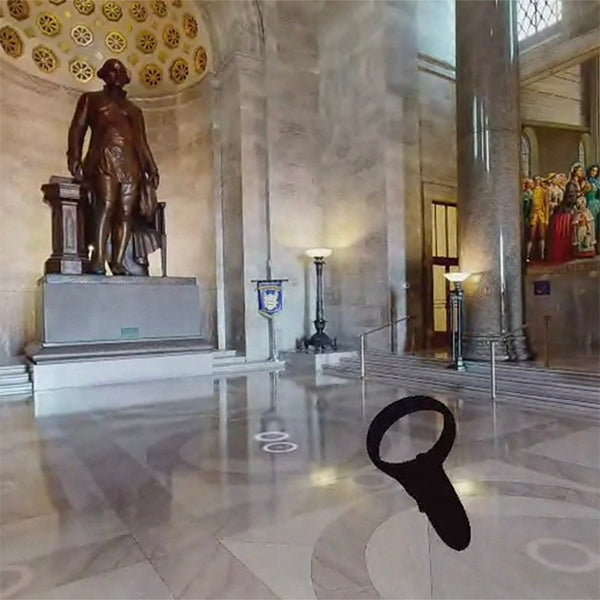 The Memorial is now available in Virtual Reality.
Freemasons are well known for embracing scientific advancements. Using a very interesting new technology called photogrammetry, the George Washington Masonic National Memorial is now offering an extensive virtual tour experience. Over 5,000 visitors have already "walked through" all of these beautiful and informative spaces as though they were present in the building.
During the period in which the Memorial was closed to the public, the Memorial's Director of Communications, Shawn Eyer, scanned all of the public spaces of the building using a special camera that combines 360-degree images with 3D "point cloud" information to produce a truly three-dimensional experience. Those with access to so-called "virtual reality" equipment such as an Oculus Go or Quest may enjoy a completely immersive experience of actually standing within the Memorial, right from the comfort of their homes. But the tours work on any computer system, and even using a typical computer, tablet, or smartphone, the tour is highly engaging and informative.
Included in the virtual tour selections are Memorial Hall (including the Portico and areas immediately outside the façade), the Replica Lodge Room, The Family of Freemasonry Exhibit, The George Washington Museum, the Templar Chapel, the Observation Deck, the North and South Lodge Rooms, the Memorial Theater, The Form and Function of Freemasonry Exhibit, and The Golden Age of Masonic Architecture Exhibit.
Many parts of the virtual tour include special features. For example, in Memorial Hall, at the famous mural depicting George Washington laying the cornerstone of the U.S. Capitol in 1793, there is a button that allows the virtual visitor to see the short film that was produced about the restoration of that painting. And in the 4th floor George Washington Museum, guests may select detailed information about some of the artifacts on display there.
To experience this sophisticated new way to visit the Memorial, visit https://gwmemorial.org/virtual and follow the directions on the screen. If you have any questions about how to use the system, contact Shawn Eyer at seyer@gwmemorial.org.
---