Our Gift to You: Washington's Rules of Civility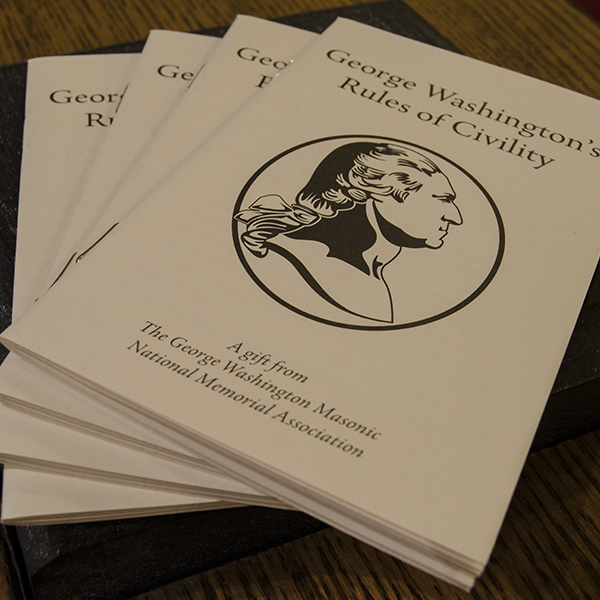 George Washington's many virtues have, for centuries, led Masons to regard him as a true exemplar of the dignity and morality that our Craft espouses.
He was twenty years old when be was initiated into Freemasonry and became exposed to the beautiful values taught in our degrees. But we know that Washington was already thinking about values and decorum about four years prior to that. Francis Hawkins' 1661 book, Youth's Behavior, Or, Decencie in Conversation Among Men, was a popular volume used in the education of young people in Washington's day. At some point during Washington's adolescence, he had occasion to make a copy of a section of this book.
The section is titled, "The Rules of Civility and Decent Behaviour in Company and Conversation," and Washington's manuscript of it still survives in the Library of Congress. The Rules of Civility is a manual of behavior comprising 110 guidelines for maintaining friendly and respectful relations among people. They show young Washington's concern for civil behavior in public, in private, in business, and in all other realms of life. While some of the rules seem antiquated to us now, most are as useful today as they ever were. They provide important reminders for civil discourse and offer a fascinating window into the values that shaped George Washington from his very youth.
The George Washington Masonic National Memorial Association has republished George Washington's Rules of Civility as a 36-page booklet, and we are proud to make it available to you free of charge (North America only). Simply use the form below to request your copy today! You will also receive periodic news and updates from the Memorial, including our informative newsletter, LIGHT.
---