Washington Receives a Masonic Oration from James Varnum, 1783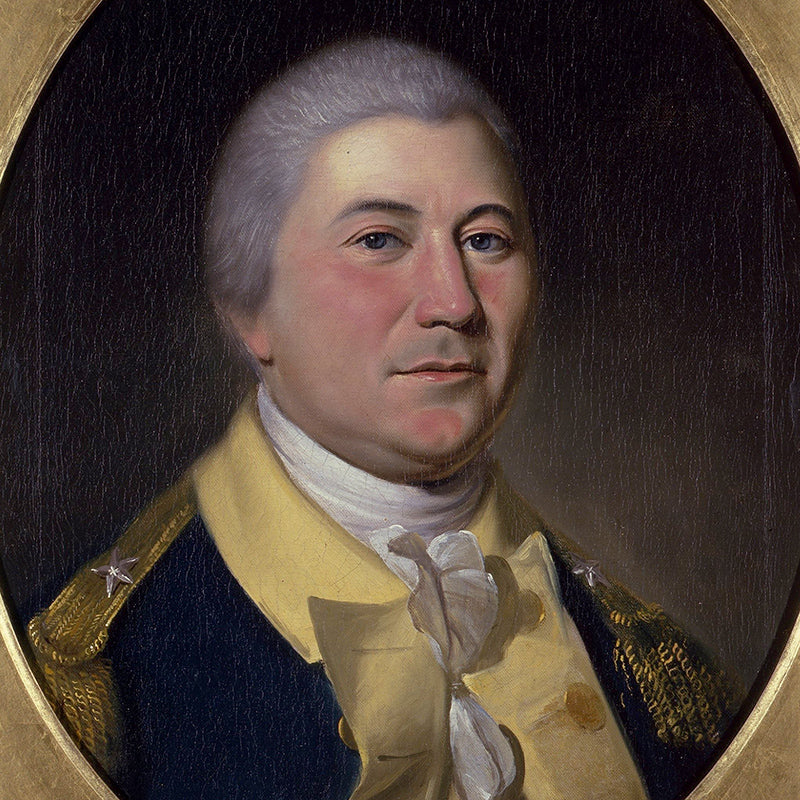 General James Mitchell Varnum (1748–1789). Painting by Charles Willson Peale.
In the winter of 1783, Washington and his army remained encamped at Newburgh, New York. For nearly a year, representatives of France, Spain, England, and the United States had discussed a peace treaty. In September 1782, the English and Americans agreed to direct negotiations and the process took a major leap forward. With travel between the old and new worlds across the Atlantic ranging from six weeks to three months, Washington, his officers, and the army had little to do but sit and wait.
With the growing likelihood of peace came a concern among the officer corps of receiving fair and final pay. In January and through February, the Continental Congress debated how more money could be raised when it lacked the means to compel any state to contribute. Senior and junior officers also began voicing their opinions on the ways and means to secure just compensation. Some officers even began to question Washington's leadership.
Among his normal official correspondence and reports, Washington also received letters from family, friends, and many well-wishers. On February 12, 1783, Washington received a Masonic oration from Congressman James M. Varnum (1748–1789) of East Greenwich, Rhode Island.
Varnum's 1782 oration, while dedicated to Washington, does not mention him. It describes how, through the centuries, humanity divided into opposing sects and was oppressed by many forms of tyranny. To alleviate such misery, Varnum encouraged his brethren to reunite humanity by "Cultivating the useful arts, and advancing the principles of universal philanthropy."
James Mitchell Varnum was born in Massachusetts and in 1769 graduated from Rhode Island College (now Brown University). After marrying, he moved to Rhode Island and soon built a successful law practice and gained a reputation as a brilliant orator. In 1774, he was commander of a militia company. After the Battles of Lexington and Concord he was commissioned colonel of the 1st Regiment of Rhode Island. In November 1777, Varnum and his regiment were ordered to hold Fort Mifflin on the Delaware River as the British Army captured Philadelphia. During this period, he was in constant correspondence with Washington and was at Valley Forge during the winter of 1777–78.
In 1778, Varnum returned to Rhode Island to raise more troops and supplies. It was during this period that he suggested to Washington that a battalion of free black Americans be raised. Washington, in turn, forwarded his consent of the idea to the governor of Rhode Island. The Rhode Island General Assembly passed a resolution authorizing the enlistment of free black Americans and Native Americans. Consequently, the First Rhode Island Regiment expanded to include over 150 freed and enslaved black Americans.
After the Battle for Rhode Island in August 1778, Varnum remained in Providence the rest of the year. On December 28, while Washington was among the Philadelphia brethren, Varnum gave an oration to his brothers of St. John's Lodge. A 1779 printed copy of this oration came into Washington's library, but it is unknown when and how this occurred.
In 1779 Varnum was commissioned as a Major General of the Rhode Island Militia, but in 1780 he was elected to the Continental Congress. He left active military service to sit in Philadelphia. He was reelected in 1782 and again 1784. No longer Washington's subordinate, but now a superior, Congressman Varnum wrote to him in February 1783.
After the war, Varnum was appointed a judge in the newly opened Ohio Territory in 1787. He lived in Marietta for only two years before dying in 1789 at the age of forty from tuberculosis. Fifteen days after his funeral, the first Masonic gathering was held in Ohio. The next year, Col. Jonathan Heart reconstituted American Union Lodge, which continues to meet in Marietta, as Ohio's first lodge.
On March 10, 1783, the day Washington responded to Varnum's gift, an anonymous letter circulated among the officers in camp. Later revealed to be written by John Armstrong, Jr., an aide to General Horatio Gates, it recounted the army's privations and the lack of congressional support. Suggesting an ultimatum could be sent to the Congress, the letter called all senior officers to meet at 11:00 a.m. the next day. Later known as the "Newburgh Conspiracy," Washington faced a possible mutiny and his last great crisis before peace was finally achieved.
South kingston [sic] February 21st 5783.

Sir
I take the Liberty of enclosing to your Excellency a short Oration, delivered upon an Occasion that has ever been deemed sacred to the Influence of all the social Virtues. I persuade myself therefore, your Excellency will not be displeased at finding the Name of Washington in the Dedication. By an Error of the Press the last Leaf is deranged, but it is not in my Power to furnish a better Copy, this being the only one now in my Possession.

I have the Honor of being
With the most Veneration and Respect
Your Excellency's
most obedient and
very humble
Servant
J.M. Varnum

Location
James M. Varnum, South Kingston, Rhode Island, to George Washington, February 21, 1783. Library of Congress, Washington Papers Series 4, General Correspondence, 1697–1799, MSS 44693: Reel 090

An Oration: Delivered in the Episcopal Church in Providence (Rhode-Island) before the Most Ancient and Honorable Fraternity of Free and Accepted Masons, on the Anniversary Festival of St. John the Evangelist, December 27, 1782. By James M. Varnum, Major General of the State aforesaid. Published at the Request of the Brethren . . . (Providence, RI: John Carter, 1783)

Location
Library of Congress, Washington Papers Series 4, General Correspondence, 1697–1799, MSS 44693: Reel 089

Transcription

Newburgh Mar. 10th 1783

Dear Sir,
I have had the honor to receive your favor of the 21st Ulto—and beg your acceptance of my particular acknowledgements for the honorouble & flattering manner in which you have spoken of me, in the dedication to your Oration, delivered before our Brethren at Providence. The Sentiments which you have expressed in your Oration, I have read with pleasure—and am with great esteem & regard
Dr Sir
Yr Most Obedt &
Obliged Hble Servt
Go: Washington

Location
George Washington to James Varnum, South Kingston, Rhode Island, March 10, 1783 Library of Congress, Washington Papers Series 4, General Correspondence, 1697–1799, MSS 44693: Reel 090
Learn more about George Washington by reading Mark Tabbert's book, A Deserving Brother: George Washington and Freemasonry.
Mark A. Tabbert is the Director of Archives & Exhibits of The George Washington Masonic National Memorial Association.
---