Order a Limited-Edition Cornerstone Trowel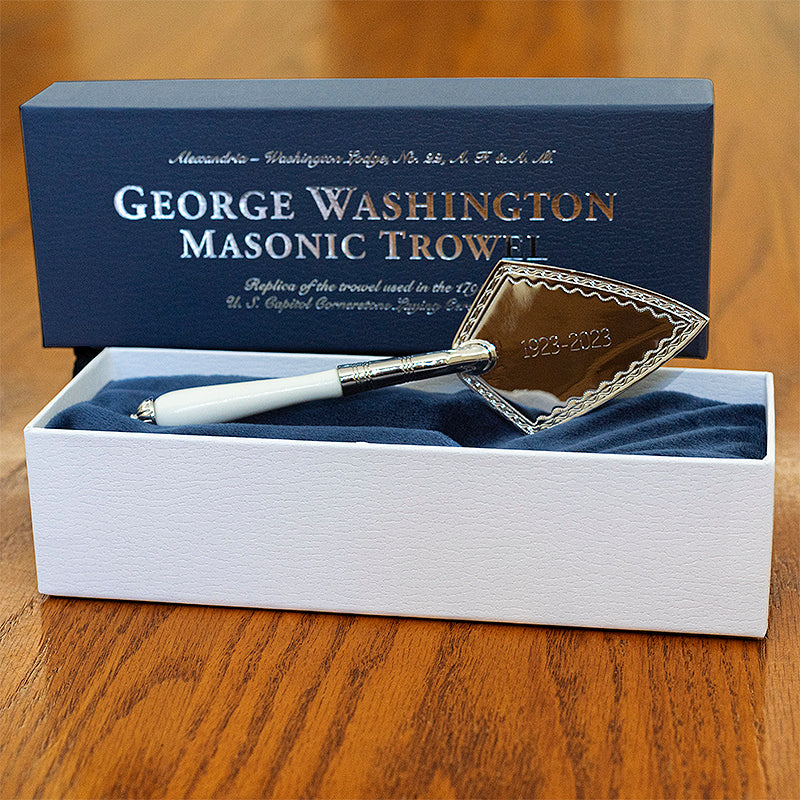 Celebrate the Memorial's Cornerstone Centennial and receive a special trowel designed as a replica of the very trowel used by George Washington to lay the cornerstone of the United States Capitol in 1793!
The original trowel was crafted by John Duffey, the same artisan who fashioned the gavel used for the same occasion. After George Washington used the trowel in the cornerstone ceremony for our nation's Capitol building, he entrusted it to his Masonic brother, Dr. Elisha Cullen Dick. Brother Dick was Master of Alexandria Lodge № 22, and ever since that day it has been a cherished relic of the lodge.
This trowel was used in similar ceremonies of other buildings, including the Washington Monument, the Supreme Court building, and the George Washington Masonic National Memorial itself (1923). It is on display to visitors in the Memorial's Replica Lodge Room.
Its most recent use was on February 20, 2023, during the rededication ceremony of the Memorial.
A Limited Edition of Only 100
Now, a beautiful replica of this trowel can be yours. There are only 100 of these special souvenirs in existence. This can make an excellent addition to your Masonic collection, or could be a very special gift to your lodge, your lodge's Master, Past Master, etc.
You can obtain yours today for a gift of $250 or more. This contribution will be used to offset the expenses of the February 2023 centennial celebration.
---