Grand Lodge of Maine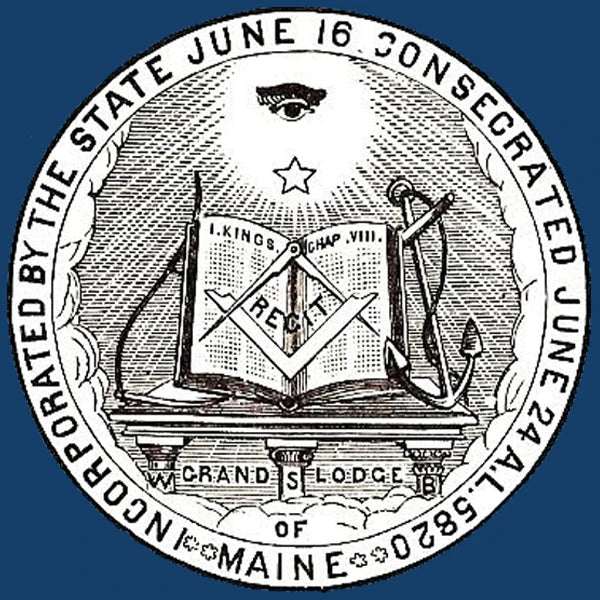 Grand Lodge of the Month for September 2021
Most Worshipful Brother Richard M. Nadeau, Grand Master
Maine's Freemasons stand by the state motto of "Dirigo," a Latin word meaning "I lead." Until 1820, Maine was part of Massachusetts. With the "Missouri Compromise," Maine joined the Union as the 23 rd state and the Grand Lodge of Maine was born. The first Lodge in Maine was chartered in 1762 in Portland and other Lodges were formed in Machias in 1778, at Wiscasset in 1792, Castine in 1794 and Hollowell in 1796. At the time the Grand Lodge was founded, there were 31 Lodges. By 1870, there were 154 Lodges and over 14,000 members.
Of the many great Mainers who were Freemasons, three are worthy of special note: First is William King (1768–1852) who served as the first Governor of Maine and the first Grand Master in 1820. Second is Simon Greenleaf (1783–1853) known as "The Father of Maine Masonry." Through his tireless efforts the Grand Lodge was founded. He served under William King as Deputy Grand Master and in turn as the second Grand Master. Greenleaf helped establish Harvard University's School of Law where he served as a distinguished professor for many years. The Grand Lodge of Maine's second highest award for "unusual contribution to Masonry," is named in his honor.
Third is Josiah Hayden Drummond (1927–1902), the 21st Grand Master from 1860–1862. As chairman of the Committee on Foreign Correspondence from 1865 to 1902, "his pen was most potent in shaping the policy of Masonry throughout the world" and established his reputation as an American Masonic Scholar. The Josiah Hayden Drummond Award, the highest Masonic award given by the Grand Lodge of Maine for "outstanding proficiency in the knowledge of Freemasonry and distinguished service," pays tribute to his leadership and dedication to the Craft.
Today, the Grand Lodge of Maine has 181 Lodges with over 16,000 members. Under the direction of current Grand Master M.W. Bro. Richard M. Nadeau, the Grand Lodge supports many charities and activities. This includes scholarships for college students, the Maine Child Identification Program (ChIP) and Maine Lodge of Research among others. The Maine Masonic College was established in 2005 as one of the first Masonic learning centers in the country. The Grand Lodge is in the process of placing its annual Proceedings and other printed histories online through its website.
The Grand Lodge of Maine, A.F.&A.M.
PO Box 430, 1007 Main Road
Holden, Maine 04429
https://www.mainemason.org
207-843-1086  
---